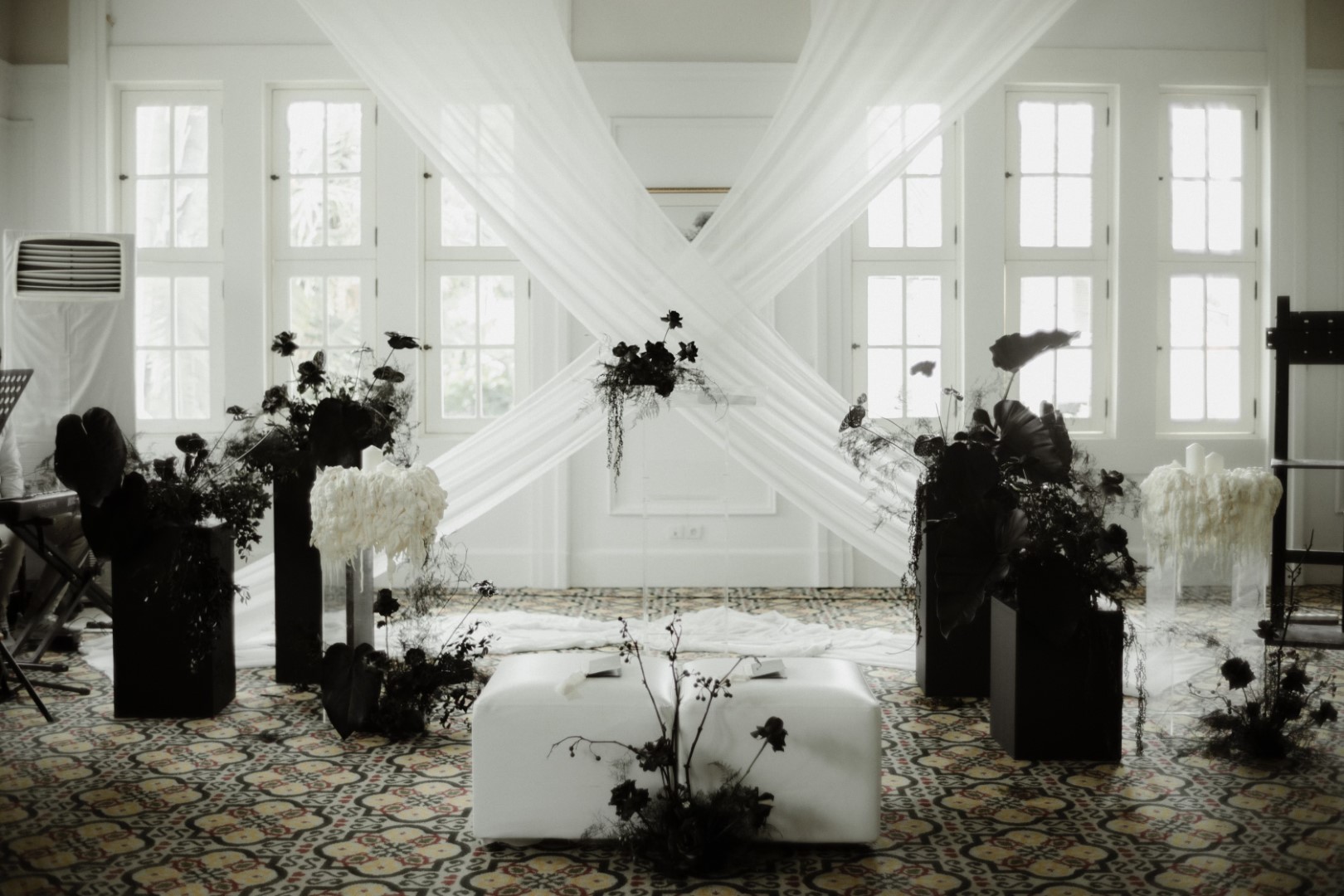 How it Works

Fill Out the Form
Save your flower decoration reference pictures. Tell BALETON your needs, what your favorite flower, shape and color preference
Speak to Our Customer Care
BALETON will send you the quotation. 50% down payment is required to secure your spot. The remaining payment has to be made at least 2 weeks before the day
Order Now
Your order will be delivered on your big day!
Order Now
Our Portofolio

(Swipe for More)
VRICKY + ANGELA WEDDING | HERMITAGE, JAKARTA
Photography by Derai.Studio
Finally, can get the honoured to make black and white theme wedding. Beneran semua terbuat dari warna hitam. Dari balok sampai daunnya, warna nya kontras tapi tidak over. Ditambah ada detail efek lilin melted warna putih yang menjadikan aksen warna yang berbeda. This is definitely pinterest moodboard came alive, looking for another black and white theme, we are so ready

(Swipe for More)
ALAIN + PUTRI WEDDING | PLATARAN, KINANDRI
Photography by Massapicture
Wedding decor terheboh dari cerah ke mendung sampai hujan, dari jam 12 malam sampai ketemu jam 12 malam lagi. Dari mulai decor sampai bongkaran. Tapi team baletondecor selalu semangat dan memberikan yang terbaik supaya hasilnya menjadi sesuai dengan apa yang client inginkan. Ditambah lagi suasana tempatnya yang asri dan sakral mendukung wedding dream decor nya menjadi lebih luar biasa bagus, kita sengaja tidak memakai backdrop atau rangkaian yang terlalu keluar dari konteks tempatnya. Jadi usahain semaksimal mungkin buat pakai apa yang ada sesuai dengan tempatnya dan kalau warnanya ini request dari bridenya, cantik banget keliatannya.

(Swipe for More)
AGNES + JAMES SANGJIT | SWISSOTEL, JAKARTA
Photography by Baletondecoration
Lavender Backyard Decoration, jadi tema sangjit untuk Agnes dan James. Rasanya seperti di belakang rumah sendiri hihi, salah satu details yang berhasil dibuat adalah flower hammock inspired by hammock yang ada di belakang rumah. Styled by @dianacaitlin (ini coba dii cek yang bener) we are so thrilled that the mood board came up so lovely and beautifully made. By the way, team baletondecor datang jam 3 subuh untuk mulai decor dan selesai di sekitar jam 8.30 pagi dari scratch sampai jadi, 5 jam yang bikin kita deg2an tapi akhirnya client happy dan kita pastinya juga seneng banget. Kita perhatikan sekali untuk setiap details nya, dari keranjang, balok, hammock, centerpiece sampai ke table decor nya

(Swipe for More)
FERRARI OWNERS CLUB INDONESIA | THE ST REGIS, JAKARTA
Photography by Baletondecoration
Ferrari Owners Club Indonesia year end dinner, Dec 13th 2022 Christmas event would not be perfect without christmas tree, and yeah we finally made it on the table so everybody can enjoy it.
Btw, untuk company event itu tidak selalu formal, jadi bisa banget kalau ingin dibuat dekorannya jadi cantik seperti tema white christmas ini. Fun fact, ini adalah event pertama di St Regis Jakarta karena merupakan hotel baru di wilayah Jakarta

Gallery

# B A L E T O N D E C O R A T I O N
(Swipe for More)